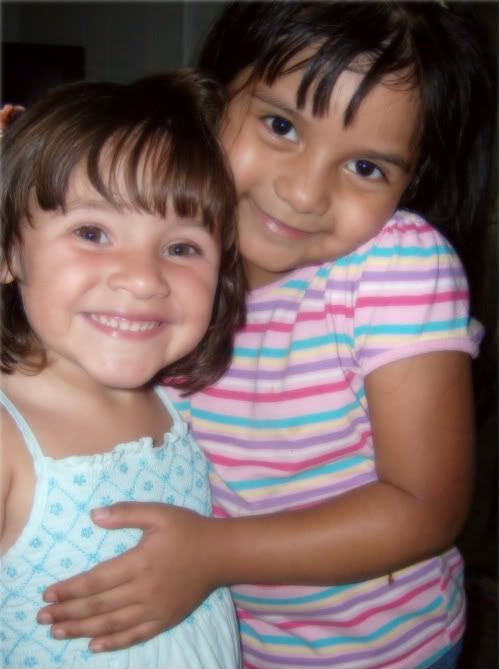 This Is Ella's Best Friend
Her best bud. Her girl. Her amiga. Since Ella has been old enough to bash around with someone she has been bashing around with Cristal. They are cousins and can not be separated when around each other. I am so glad she has a cousin to pal around with and I hope they remain fast friends for a long time. I had a cousin like this too, Abby. (Well, she isn't dead so I guess I
have
a cousin like this.) Though other cousins would intermittently added in the mix with our close pal status we were pretty thick when we were together.
I have incredibly fond memories of summer trips upstate NY were they lived. My weird Uncle Ray and sweet Aunt Kathy would host our group when we ventured up there. NY was so nice because it was a welcome retreat from the sticky heat of NC in the summer. I could visit NY and actually need a sweater in the evenings. Best of all.... they had REAL grass and Abby!!
I started visiting this side of the family around the fun age of nine I guess. Old enough to have a little freedom to roam and young enough not to worry about most things and still be able to run. You know, like a kid runs, free and silly and wild. We would play in the orchard they lived on, exploring the barn and picking fresh cherries from a neighboring farm to be baked into pies.
We likely alienated a few cousins now that I think about it. Inadvertently (sorry if we did guys!). I don't remember ever intentionally doing that but a "secret language" is exclusive in nature. To the annoyance and chagrin of adults within earshot and anyone who did not speak our language we would ramble off in "gibberish" for hours at a time. Yes, it is a real "secret language" and we communicated quite adeptly with it. Yup. Annoying I know. It was effective in warding off adults and little brothers though.
Some of our antics:
Staying up way too late. All the time.
Making up weird names for all the family. Like Auntie Olive. Weird kids.

Begging money off the adults for hours and leading a troop of mangy kids down to the corner store for way too much candy.

Deciding we would start our own business selling small decorative pillows stuffed with the down of cat-tails we stripped for hours (aka 1/2 an hour) Till we got bored.

Smashing rotten eggs we found in the barn.

Apple wars with the other cousins - her siblings. Apples HURT!

Singing "Girls"(do do do doo do doooo!) by the Beastie Boys over and over again. Or anything by Beastie Boys really. (We won't discuss some of the more embarrassing music).

Later on our antics developed and we were accused, sequestered, and questioned by a professional police officer (my father) and all parental figures on our participation with a certain pot smoking cousin at a family reunion. (He shall remain unnamed as he was never proven guilty.) (I don't think.) I am still slightly bitter as this girl still never has smoked pot. Though we were admittedly guilty of smoking cigarettes. Pot head cousin getting us in trouble. Hey, whats family for right?
We have since gotten married, both acquiring weird last names and between the two of us have five kids pretty close in age. Wow. So strange. We have kids. I still look back on the times spent with her with great fondness. I was able to escape stresses of my weird childhood with her and just be young and silly. She is included in some of my most pleasant childhood memories and I am so thankful for those times. Thathaganks Athagabathagail! Miss you and love you girl!