This weekend I was a happy girl indeed. I asked my mom and dad to take the kids for us for a weekend sometime a few times and we just never made it happen. This past weekend that changed.
We logged over 800 miles within our own state, North Carolina. It is hard for us to find places in our state that neither of us had been but we checked out lots this weekend together. Some places (umm Sealevel & Cedar Island) we will not be taking a second visit to unless we are just there to catch the Ocracoke ferry (book ahead) to the outer banks.
We slept in a tent under the stars on Friday night at the Carolina Beach State Park, very nice place and I did not have to shower in front of anyone which was a concern. We went to see a movie together, we ate when and where we wanted and even got to eat the crackers that came with our salads. We are used to surrendering those to the kids.
Saturday we had planned on staying at this campground in Sealevel, NC. We got there, scoped it out and while it was not in any way fancy or upscale it was quiet, the tent area was empty and secluded and it was cheap. We went and paid for the site, drove back over there and got out to set up. Then I realized what I had done wrong. I had not gotten OUT of the car when we looked at the site. As soon as Alex got out the state bird of NC attacked him, the mosquito. They usually pass over him but he was dancing around smacking himself. They got me next. We left to get bug spray but later decided we would not be returning there. So we were homeless.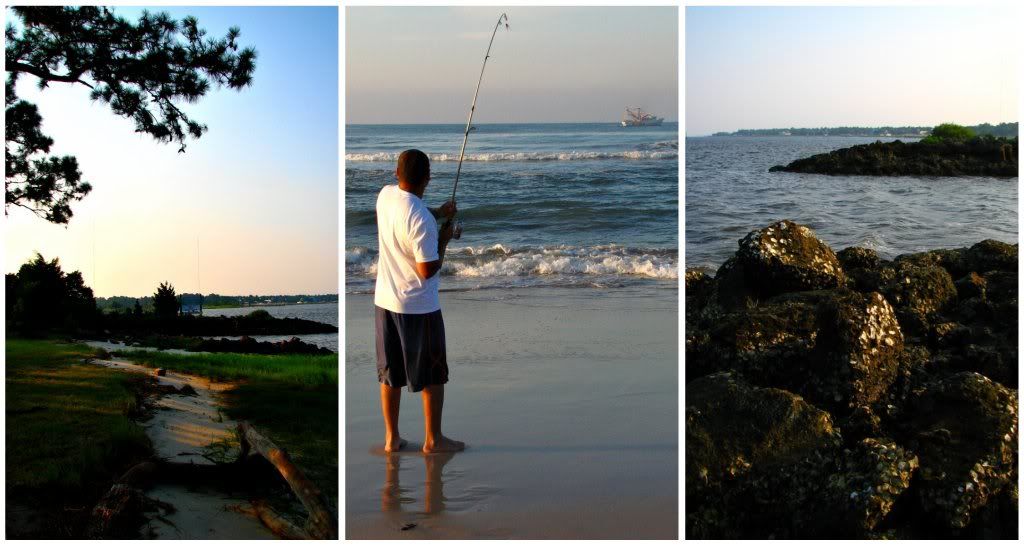 That night we went fishing till 1:00am and then were going to drive the two hours back to where we were going to camp. Alex and I were very tired at that point and he decided to park so we could sleep instead of driving off the road. We went to one of our favorite beaches in NC, Topsail Island and tried to get comfortable to sleep in the car. I guess maybe one of those mosquitoes followed us in the car because around 4:00am one of them started buzzing around my ear.
I learned another important lesson. Never ever, in a fit of tired uncomfortable rage at 4:00am, decide to spray bug spray in an ENCLOSED vehicle. After fumigating myself, my husband and my dog I jumped out of the car hacking and spitting and decided forget it. I grabbed the sleeping bag, threw it down in the parking lot, realized it was a gravel parking lot, moved it to the bottom of a sand dune, crawled in, flopped over, coughed and flopped over some more. Then I saw it. The sky.
I have not seen so many stars in my life as I did that night. It was amazing and so comforting. I fell asleep to the sound of the ocean and the sight of the stars. So serene.
I also slept through some rain apparently because when I awoke my sleeping bag was wet on the outside and the sand had droplet prints all over it! I was tired. We had waxed poetic about sleeping in but we were up at dawn both mornings. There was much to be accomplished like hand holding, photo taking, fishing, kissy face, eating grown up food, exploring and just generally remembering why we like each other.
We had fun with the "camping" part of it even though really we were just using the tent to sleep in over night. We will do it again and we think the kids will love it. We might be camping people. We are not "camping in the summer in NC" people though. Those people are insane.
Did I mention we went without our kids? Haaaaaaaaaaalleluiah!!
Thank you baby! I had a fantastic weekend. We will do it again, sooner than later I hope.